FOR SALE:

SOLD
Stahl Crane Systems, Inc.
Electric Wire Rope Hoist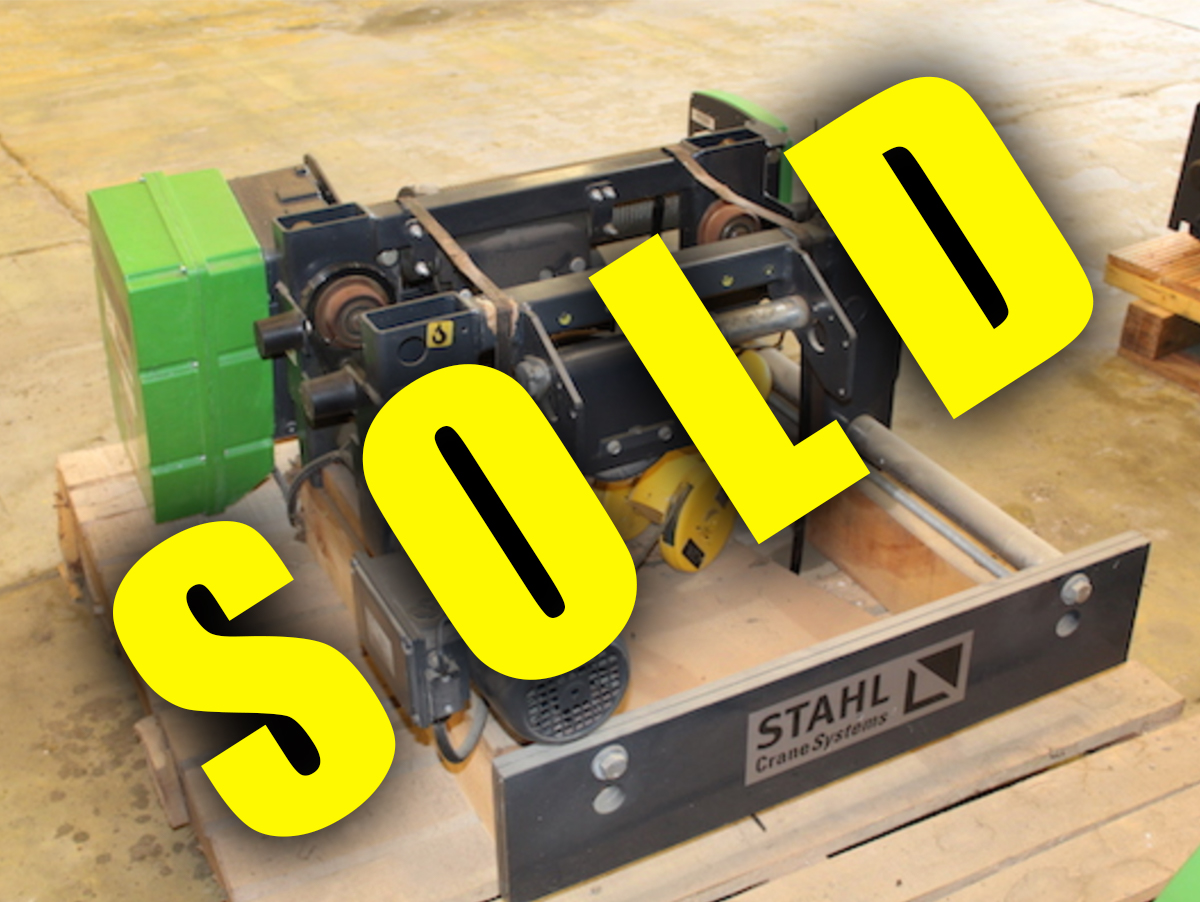 Date Listed:
June 21, 2019
Description:
2 Ton Capacity Electric Wire Rope Hoist
Details:
• PRODUCT: SH 3008-20 4/1 L3 KE
• DUTY CLASS: 2M
• HOISTING SPEED: 20/3.3 FPM
​• MANUFACTURING REF: U01661/1
• MANUFACTURING MONTH: 04/2013
• HEIGHT OF LIFT: 20 FT
• MAIN VOLTAGE: 230V
• CONTROL VOLTAGE: 120V
• FREQUENCY: 60 Hz
• TOTAL AMPS: 19A
• HOISTING MOTOR: 1X4.3 KW
• NEMA 4X
• TROLLEY MOTOR: 1X.44 KW
Please Note:

Clicking on the PHOTOS button beneath each listing image leads to our
Used and Surplus Cranes and Hoists Gallery which allows each product to
be viewed in three, larger views and provides further options to read
additional details. • The unit is available for immediate shipment and that
the unit is one of one available, subject to prior sale and may be withdrawn
from the market without notice. • The unit is new and carries a 90-day warranty.
SOLD


Please Note: All items offered for sale on this site are subject to prior sale
and/or will be removed from market availability without notice.
Please contact Mr. Val Duchene at 1.918.321.3953, 1-800.474.5600 or vduchene@bridgecrane.com ​
for pricing, availability, or any additional information regarding the products listed
on this page. Contact us to ask about our expanding inventory of new, used, surplus
​cranes, hoists, parts, and other overhead crane components.
We are always happy to assist you.