FOR SALE (NEW):
Street Crane Company, Ltd.
Electric Wire Rope Hoist / Trolley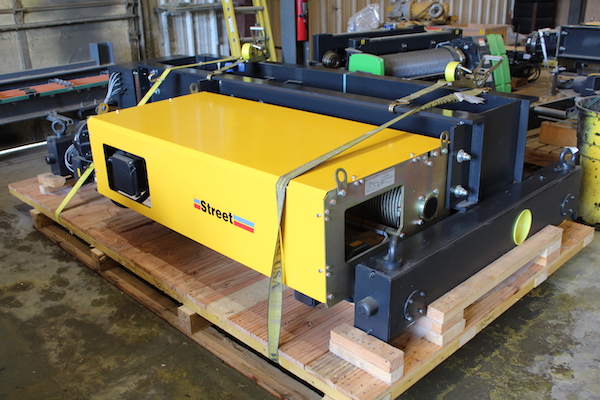 Date Listed:
June 21, 2019
Description:
25 Ton Capacity (50,000 lbs) Electric Wire Rope Hoist / Trolley
Details:
SERIAL NO. Z08492.21
YEAR: 2018
TYPE: ZX088-4XoEM4T108-CRE26B1-46060U14
CAPACITY: 25 US TON
HMI CLASS: H3 180 St/hr
TEMP: 14/104 F
HOL: 32' - 9"
30% ED
HOIST: 12.8 / 3.1 fpm
CT: 66/6 fpm
INSUL CLASS F
AUX SUPPLIES: 220V
CONTROL: 110 V
IP: 55
SUP. 460 +10/-6% -3ph 60Hz
CURRENT: 48A

ROPE CONSTRUCTION: 10 x 17 COMPACTED STRANDS
ROPE LENGTH (m): 90.9
ROPE BREAKING LOAD (kN): 161
ROPE DIAMETER (mm): 13
LAY: RIGHT-HAND LANGS LAY
Please Note:

Clicking on the PHOTOS button beneath each listing image leads to our
Used and Surplus Cranes and Hoists Gallery which allows each product
to be viewed in three, larger views and provides further options to read
additional details. • The unit is available for immediate shipment and that
the unit is one of one available, subject to prior sale and may be withdrawn
from the market without notice. • The unit is new and carries a standard
Street warranty.
Price:

$28,650 (FOB - Kiefer, OK)


Please Note: All items offered for sale on this site are subject to prior sale
and/or will be removed from market availability without notice.
Please contact Mr. Val Duchene at 1.918.321.3953, 1-800.474.5600 or vduchene@bridgecrane.com
​for pricing, availability, or any additional information regarding the products
listed on this page. Contact us to ask about our expanding inventory of new, used, surplus
​cranes, hoists, parts, and other overhead crane components.
We are always happy to assist you.